Mission
Club of Bologna: a world task-force on the strategies for the development of agricultural mechanisation
The Club of Bologna has been established in 1989 as s free, nonprofit organization under the FederUnacoma's initiative and support with the aim to promote discussions and exchange of experiences among the leading international experts from research, industry and international organizations in the field of agricultural machines and mechanization.
The Club of Bologna normally meets once a year in Bologna, in Hanover and Bari during the three international exhibitions: EIMA, Agritechnica and Agrilevante. Each meeting discusses various view points based on the specific experiences acquired in the different main areas of the world and, at the end, it elaborates Conclusions and Recommendations to be submitted both to the National Governments, to the International Bodies and to the research, agricultural and manufacturing people for the actions to be undertaken.
Currently, in the Club, 30 Countries are represented by 85 Full Members and 8 Pellizzi Prize winners, coming from universities and research centers (61%), agricultural machinery manufacturers (10%), agricultural machinery manufactures Federations and Associations (9%), experts and consultants (12%), and International Organizations (7%).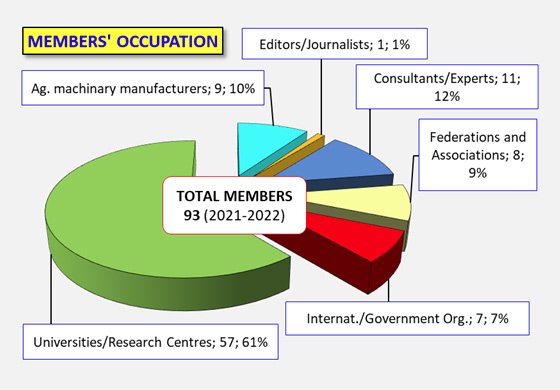 The Club is managed by a Management Committee, composed by 11 Members (President included), the Secretary General and the FEDERUNACOMA Delegate. The 2 Past Presidents are also invited to the Management Committee meetings. The President of the Club of Bologna (Prof. Paolo Balsari) and the Secretary General (Prof. Marco Fiala), come respectively from the University of Turin (Department of Agricultural, Forestry and Food Sciences, DiSAFA) and from University of Milan (Department of Agricultural an Environmental Sciences. Production, Landscape, Agroenergy, DiSAA). The Administrative Secretary (Dr. Patrizia Menicucci) is instead located in Rome, at FEDERUNACOMA headquarters in Rome.